Select Tab
Life Unscripted
Rita Moreno recalls important lessons learned after her husband's passing
With an award-winning career spanning more than seven decades, words like "legendary," "timeless" and "groundbreaking" come to mind when Rita Moreno's name is mentioned. But for all the parts she has played, Rita's favorite starring roles are mother, grandmother and wife.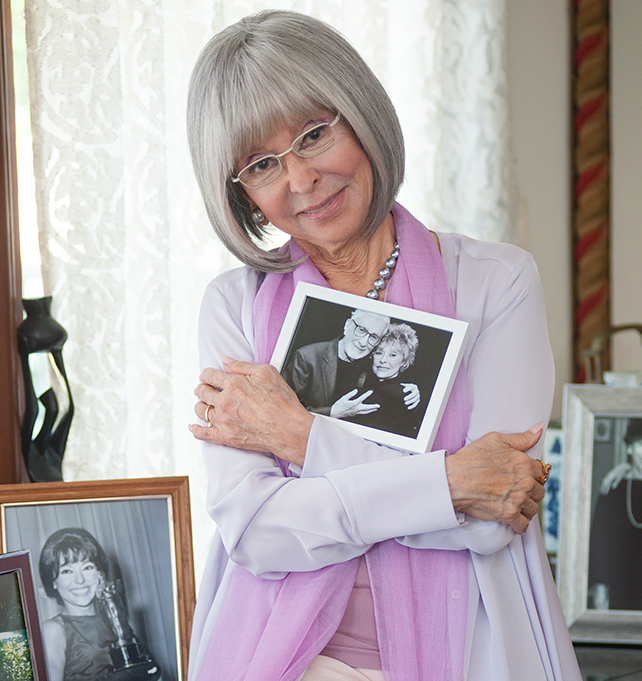 Rita remembers her late husband Leonard Gordon as a loving partner, devoted father and a genius with household business. In fact, with Rita's career in full swing, Leonard singlehandedly took care of their financial affairs so Rita could focus on her demanding schedule. Tragically, Leonard's death in 2010 after 46 years of marriage left Rita not only devastated, but forced to figure out complicated insurance and financial issues alone. "When [Leonard] passed away, I literally knew nothing [about how our finances were structured]," said Rita. "That was scary."
Thanks to a close family friend, Rita eventually was able to make sense of her insurance policies and finances. That challenging time opened her eyes to the importance of open and honest dialogue about financial issues. Motivated by her experience, Rita is partnering with the National Association of Insurance Commissioners (NAIC) to encourage families to make smart insurance and retirement planning decisions together while they still can. She offers the following tips to her fellow older Americans:
Sharing is caring. If your plans and policies are still a mystery to your spouse or partner, do not wait any longer to share. An open exchange of information is vital to ensure you are both prepared if one of you is unable to provide information.
Ask the experts. When reviewing your plans and policies, do not assume anything! A call to your state insurance department can help clear up confusion about insurance policies and ensure you are carrying the right coverage, which may help save money and prevent fraud.
Pass it on. Make sure your adult children understand your long-term care plans, life insurance policy, end-of-life wishes and the importance of planning ahead for their family. "This situation really made my daughter think," said Rita. "She learned a very valuable lesson from my bad one."
Still very active and always up for something new, Rita attributes her endless energy to her personal philosophy on aging: "You've gotta keep moving." In her video series "Life Unscripted," Rita gives a senior's perspective on some of these new experiences and offers a few words of advice to help seniors stay safe during their golden years, including:
Exercise caution online. Though many seniors enjoy the ease and convenience of online shopping, mobile devices and communicating through social media, these new technologies can expose seniors to more fraud attempts. Seniors should think twice before sharing personal and financial information online.
Do your research. Heading out of town? Before renting someone's home through a sharing service such as AirBnB, research the property owner. Make sure you also understand what insurance policies apply before signing on.
For more tips to help seniors get insurance-smart and avoid fraud, NAIC offers 10 Tips To Help Seniors Navigate the 21st Century, a resource that covers issues such as cybersecurity, the sharing economy, living with adult children, long-term care and annuities.
More of Rita's Story
Rita Moreno: Life Unscripted (Videos)